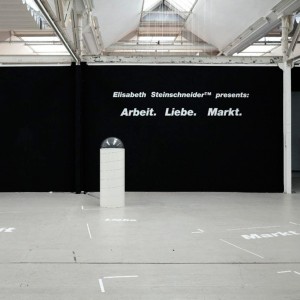 Joint Venture (Read The Small Print)
Installation (1 object, 8 cut marks, 6 field markings, 4 legends)
Master Degree Show, Shedhalle Zurich
The installation was the second part of the artistic work Joint Venture. The first part was a performance of four re-enactments (the two speeches by the Microsoft boss to his employees, the press conference of one of the drug suspects Football Trainers and the first dance performance of a square dance club.
This second part focuses on the relationship between performance and documentation. With this function, this part was not only an addition to the performance.
For a performance artist symbolizes the word "work" the artistic process.
"Love" is symbolized by the object in the middle of the installation and means the (haptic) results of the artistic processes. It also considers the object of desire from the perspective of the art market.
Finally, the field markings are for the rules (unwritten as well as written) of the "Market". The performances are also based on those keywords – work, love and market.
The most important difference between the performance and the installation was (for me): the great void. During the performance, the entire space was needed. What remains of the performance is the emptiness. The marks on the ground should prove something: Both the performance as well as its importance in real life.
Documentation