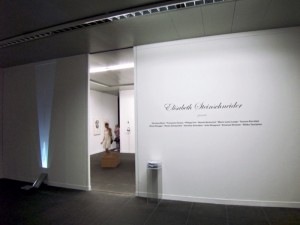 Curate the Show
Elisabeth Steinschneider presents: Christina Benz, Emanuel Strässle, Francoise Caraco, Henrik Hentschel, Julia Sheppard, Karoline Schreiber, Marie-Luise Lange, Philipp Frei, Renée Schauecker, Riikka Tauriainen, Romy Rüegger, Susana Perrottet.
Semester exhibition of the students Master of Arts in Fine Arts ZHdK, July 2009
performance (Opening Speech),  25 min
The Kunstmuseum Bern was kind enough to provide master students with his spaces during the summer time. Elisabeth Steinschneider gave the opening speech. Contents of this speech was the young contemporary art. What kind of art? It was an exhibition of Master's students, not finished yet. In this case the speech on the young artist was also not ready. It is a frame of finished sets, grammatically absolutely correct, without any concrete statements. Most sentences do not make sense without this.