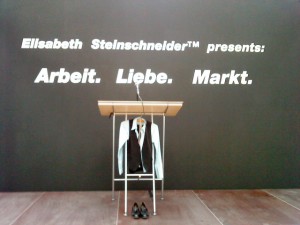 Joint Venture (Read The Small Print), 2th June, 2010
performance cycle (4 reenactments, 1 Objekt, 8 cut marks, 6 field markings, 4 legends)
How strong is the bond that connects the three, work, love and market?
The artistic work of the Master degree program (at the ZHdK) dealt with the relations that were discussed during the two years: Self-organization, artistic work itself and Marketing.
4 Reenactments from non-artistic fields were successively presented (thus they were placed together in a relationship).
2x Steve Ballmer unleashed as Microsoft CEO, recorded during two speeches to the employees of his company.
1x Christoph Daum (a soccer trainer from Germany) at a press conference, in which he protested his innocence over the use of cocaine.
1x Acquisition Event of the Square Dance Association of Square Drivers Zurich.