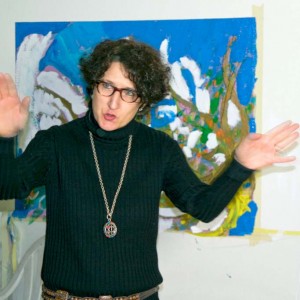 Objects (Tour of the exhibition "Sofort Kunst"
with Monica Magnoni, architect)
performance talk for the group exhibition
in two appartments of Winzerhalde 74; 18 min
18th november 2011, Zurich
Description
Renée Schauecker performed as (alter ego) Elisabeth Steinschneider, a patron and promoter of young contemporary art and its protagonists. For this performance Elisabeth organised a talk with the architect Monica Magnoni. The audience was invited to take a tour through the exhibition in both appartments.
Elisabeth Steinschneider and Monica Magnoni started the tour in the first apartment. But instead talking about the art pieces, Magnoni and Steinschneider only had a conversation about temporary use of art space like these two flats, appreciation for real estate objects and growth potential for this particular housing project.
As they entered the second apartment the conversation from the first apartment was repeated one to one.