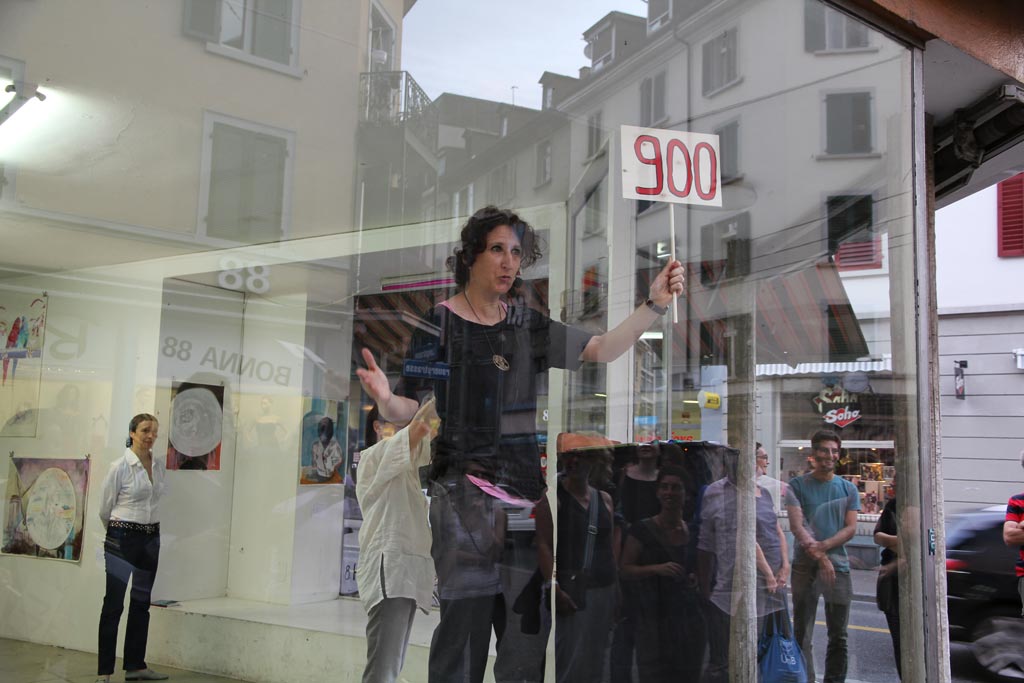 The Auction
(Small, Medium, Large)
a performance to sell 15 paintings
What
One hour before the auction starts the audience, buyers, could visit all the paintings and price lists. At the beginning of the performance everybody had to go out of the street.  At the entrance I explained the rules for this auction. Every Buyer had to take a number. There were three price segments:
small = 500 Swiss Francs,
medium = 900 Swiss Francs,
large=1800 Swiss Francs.
After the introduction I went inside the art space, shut the door and started the auction. In the the showroom of Perla Mode I started to sell the paintings. According to its size for each image I showed the price segment to use a notice board. Out of the street the audience could bid for the paintings there were shown behind the windows of the gallery.
Where
Three artists asked me to auction 15 images; as part of "Who fucked up my paintings". The auction should be a conclusion of an experiment in Perla Mode, Zürich. The art space Perla Mode is part of Langstrasse, a very special area in Zurich.  And if you know what gentrification means – than you know how does it feel to step through this area. You're in the eye of the storm between long-established bars, prostitutes, drug dealers, local residients and young, well-paid creatives, growing numbers of tourists, new exclusive shops and cool event locations.